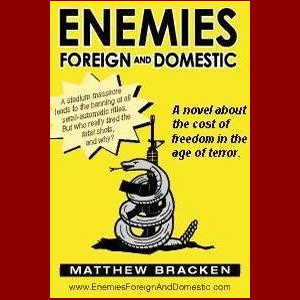 Given the current efforts in D.C. to illegally restrict the constitutional rights of gun owners, "Enemies Foreign and Domestic", the best-selling novel by author Matt Bracken, is a must read for those concerned about maintaining our Second Amendment rights. I guarantee that this book will be tough one to put down!
Written in 2003, the book predicts a scenario that could become reality if we do not aggressively communicate with our elected officials at all levels of government.
Enemies Foreign and Domestic is the first by Bracken in a trilogy, followed by Domestic Enemies: The Reconquista, and lastly, Foreign Enemies and Traitors.
It's an honor to have Matt Bracken as my guest on Freedom Forum Radio for the next three weekends: March 23-24, March 30-31, and April 6-7.
---
Find out why preserving the Second Amendment as originally intended by our founders is so critical to maintaining our individual freedom and the sovereignty of our nation! Tune in at WJRB-FM 95.1 FM or LISTEN LIVE on the Internet. Listen to PODCAST.
Don't miss Part Two and Three of Dr. Dan's interview with Author Matt Bracken as the discussion continues on the Second Amendment and your right to keep and bear arms!
P R O G R A M S C H E D U L E
♦ W J R B 95.1 FM ♦
S A T U R D A Y
8:00AM & 9:30AM
S U N D A Y
2:30PM & 7:00PM