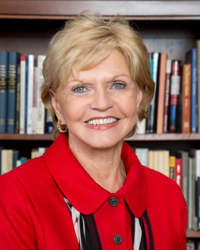 Earlier this week, North Carolina Governor Beverly Perdue suggested that congressional elections be suspended for two years (
full audio here
).Perdue said, "I think we ought to suspend, perhaps, elections for Congress for two years and just tell them we won't hold it against them, whatever decisions they make, to just let them help this country recover. I really hope that someone can agree with me on that."Perhaps Governor Perdue should familiarize herself with the United States Constitution, Article I, Section 2, which states:"The House of Representatives shall be composed of Members chosen every second Year by the People of the several States, and the Electors in each State shall have the Qualifications requisite for Electors of the most numerous Branch of the State Legislature."
The Constitution requires elections for the U.S. House of Representatives every other year.   Why does this matter?   Because Governor Perdue and all politicians of all parties have sworn an oath to "uphold and defend" the U.S. Constitution.
In 2010, Governor Perdue witnessed the Republican Party take control of the North Carolina Legislature for the first time in more than 140 years.  With 2012 just around the corner, Perdue must be feeling vulnerable and exposed.  Desperate to maintain access to as many votes as possible, legal or illegal, Perdue recently vetoed voter ID legislation that would have discouraged voter fraud.  Apparently, she's now decided skipping congressional elections altogether in 2012 is best for everyone, especially her own job security.
Tea Party and other Patriot groups are organizing a rally on Saturday, October 1st at 11:00am at the Governor's Mansion in Raleigh at 200 N Blount Street.  The message to the governor will be clear.  By her own words and deeds . . .  Perdue's days as our state executive are numbered.
If you cannot make it to the rally, consider other creative ways to show your support, such as facebook, twitter, letters to the editor and emails, letters and faxes to our elected officials.   Grassroots across America unite, speak with one voice and tell President Obama and Governor Perdue that "We the People" of North Carolina believe in the United States Constitution, the Rule of Law, Liberty and our inalienable right to vote.
The Democratic National Committee has chosen Charlotte, NC as the location of its 2012 national convention.  North Carolina is a battle ground state. . .  For those who want to turn our country around, those who believe in constitutional government and those who want to protect our liberties, are we up for the fight?   2012 will be a critical year for America'sfuture.  We can do this!
Dr. Dan Eichenbaum